Rosa Villosa... Les Roses. Paris, 1817-1824. $1,550.00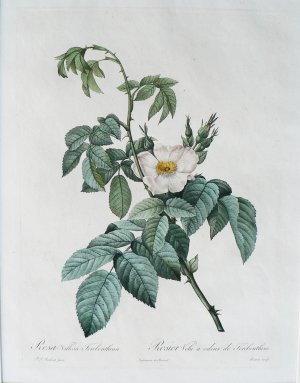 "Rosa Villosa Terebenthina. Rosier Velu a odeur de Terebenthine"

Pierre-Joseph Redoute is the most celebrated of all flower painters. His success stemmed from his enormous talent and from his ability to attract royal patronage no matter what the political climate; first becoming the drawing master of Marie Antoinette, and then, the Empress Josephine. The patronage of the Empress marks the most successful phase in Redoute's dazzling career. Josephine was an enthusiastic collector of rare plants and she engaged Redoute to make drawings of the specimens she planted in her gardens at Malmaison. She provided him with all the varieties of roses he depicted in the 169 engraved illustrations contained in Les Roses.

The beauty of Redoute's engravings is in large part due to the innovative technique he used. He perfected the method of combining stipple engraving, in which the image is made up of minute dots whose density conveyed tone and shading, with line engraving, color printing and finishing of the plates by hand. The overall effect is stunning. His prints convincingly reproduce the beauty and three dimensionality of his original watercolors.

This engraving is from the rare large paper edition of the work.
Straight line and stipple engraving, partially printed in color and finished by hand.
18 ½ x 13 ¼ inches.
Very nice overall condition with full sheet and well preserved color, but scattered pinprint size foxing as shown in photo..