after Henry Stull. Colin. Chromolithograph. The Week Company,1908. $225.00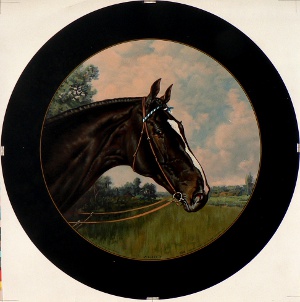 "Colin"
Henry Stull (1851-1913) is renowned for his distinctive images of racehorses. He was one of the most prominent equestrian artists in late 19th and early 20th century America. As a youth, he migrated from his native Canada to the United States, where he settled in New Rochelle, New York. His works can be found in many important collections such as the New York Jockey Club, the National Museum of Racing Hall Fame, and the Kentucky Derby Museum.

The subject of this wonderful antique print is the magnificent horse Colin (1905-1932), one of America's greatest thoroughbred racehorses. He retired undefeated after 15 starts and as a sire appears in the pedigree of the champion racehorse, Asab.

Chromolithograph.
Very nice condition.
Approximately 20 x 20 inches, sheet.
Ready for framing. Matted in a rag mat in which a round opening sets the image off beautifully.
TO SEE MORE ANTIQUE PRINTS OF HORSES, GO TO OUR SPORTING CATEGORY.