attr, Kolb, Emery or Ellsworth. (Navaho by the Stream) c. 1920. $950.00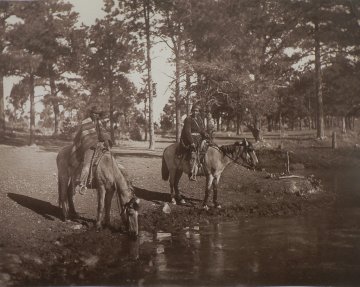 (Navaho by the Stream)

Born in Pennsylvania, Emery Clifford Kolb (February 15, 1881--December 11, 1976) shared most of his early adventures with his brother, Ellsworth Leonardson Kolb (January 4, 1876--January 9, 1960), who left Pittsburgh and got a job at the Bright Angel Hotel at the Grand Canyon, Arizona. Back home, Emery had been experimenting with photography and when Ellsworth spoke of an opportunity to take pictures of the mule parties on the Bright Angel Trail, Emery went to the Canyon. In 1904, the two brothers opened a studio on the South Rim of the Grand Canyon and began taking photographs.
The Canyons of the Green and Colorado Rivers had been successfully navigated by only a few parties, in 1911 when the brothers decided to attempt the trip. They successfully took the first motion pictures of the thrilling journey riding the rapids of the Colorado from Wyoming to Mexico. Ellsworth published the account in "Through the Grand Canyon from Wyoming to Mexico." Almost an entire issue of The National Geographic was devoted to the trip. The movie was later shown at the Canyon running continuously at their Canyon studio from 1915 until Emery's death in 1976. In 1977 a thirty minute documentary was made of Emery's life and works and In 2004, "The Kolb Brothers: Grand Canyon Pioneers" aired on public television. The Kolb studio is now part of Grand Canyon National Park. It has exhibits and early video of the Kolb brothers on the Colorado and photographing the canyon.

11 x 14 inches.
Bromide gelatin silver print.
Excellent condition.