Johann Theodor De Bry (English Daffodil ) Plate 135. Floregium renovatum et auctum… Frankfurt: Matth. aus Merian, 1641. Framed Sold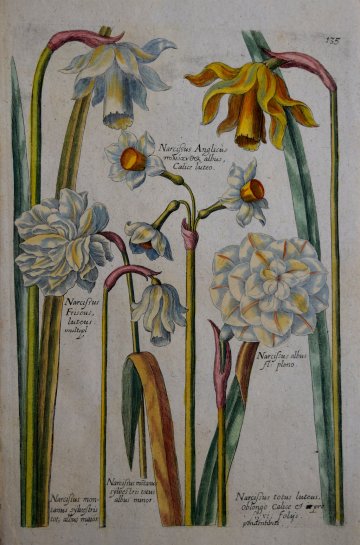 Plate 135 "Narcissus Anglicus…'

Johann Theodor de Bry (1528 – 1598) was an engraver, goldsmith, publisher and editor, eldest son and most prolific member of a notable family of printmaker-publishers. The de Brys lived in Frankfurt, then a center for the production and sale of illustrated books. De Bry produced a wonderful early comprehensive botanical plate work titled Florilegium Novum in 1611. This book with its handsomely engraved plates was among the most famous flower books of the period. In response to its great popularity an expanded edition of the work was published in 1641 by Matthäus Merian, titled, Florilegium renovatum et auctum: variorum Maximeque rariorum germanium, florum ac platarum.. Merian was a superbly gifted Swiss engraver who worked in various cities throughout France before locating to Frankfurt to work for Theodor de Bry. Upon De Bry's death in 1623, Merian took over De Bry's publishing business and married his daughter, Maria Sybilla Merian, an exceptional artist/naturalist in her own right.
This, the true English Daffodil one of the prettiest of a showy tribe. "Anglicus", in a single word, explains what the English garden thought of this heavenly flower. The "common" daffodil, brought to the America's by the earliest English settlers, is a very early blooming a long, dark yellow trumpet and a hooded, light yellow perianth giving it an unmistakable old fashioned, wild flower look.

Copper plate engraving with hand coloring.
12 1/2 x 8 inches sheet.
Excellent condition.
Archivally framed.