Levaillant, Barraband ( L'Amazone Tapire en rouge) Historie Naturelle des Perroquets. Paris 1801-1805. Framed $3,650.00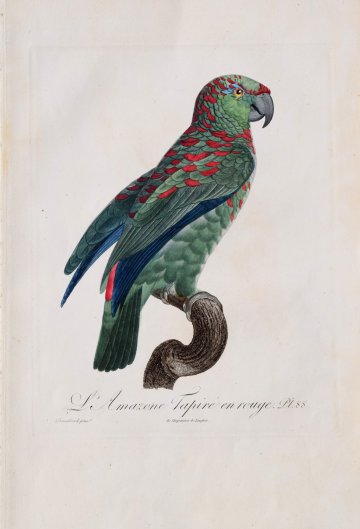 Plate 88 "L'Amazone Tapire en rouge"
This magnificent engraving was created by the collaboration of two early 19th century Frenchmen Francois Levaillant (1753-1824) a naturalist and Jacques Barraband a draughtsman, a flower painter, a designer of Sevres porcelains.
Levaillant was sponsored by a patron to collect bird specimens and spent 6 months in Africa observing and recording the habits of birds, amassing a major collection of specimens, and discovering upwards of 50 new species. This expedition begat a monumental six-volume work titled Histoire Naturelle des Oiseaux d'Afrique, containing over 300 illustrations, and admired today for the quality of the prints and lively style of writing. The artist Levaillant hired to created the illustrations for his sumptuous ornithological monographs was Jacques Barraband (1767-1809).
This parrot "portrait" was included as an illustration to Levaillant's fundamental treatise on parrots titled, Histoire Naturelle des Perroquets (1801-1805), a landmark in bird publications due to its color plates. Barraband is considered the foremost 19th century French ornithological artist, admired for his ability to bring his subjects to life. His drawings for the Perroquets are among the finest of all bird prints. His bird portraits are just that, they are not scientific illustrations representative of the species, but portraits of individual birds. This is evident in each bird's position, posture and the lifelike engraving of the filaments of each bird feather. They are as detailed as a photograph.
The reason the French were so advanced in printmaking and producing magnificent works was due wholly to Napoleon. It was Napoleon's "deliberate policy to initiate a series of magnificent publications that would vie with those undertaken to the order of Louis XIV. These were sent as presents to crowned heads, men of science, and learned bodies, in evidence of the splendors of the Empire. The works of Levaillant owe their sumptuous character to the same impetus. His Historie naturelle des perroquets is, unwittingly, a part of the glories of Napoleonic France."
Reference: (Fine Bird Books, Sir Sacheverell Sitwell.)

Finely engraved plates printed in colors by Langlois and finished by hand.
Measuring 21 1/2 x 19 inches sheet.
Framed 25 1/4 x 22 1/2 inches outside.
Exellent original condition.