(Tulips) Eden, Or a Compleat Body of Gardening. London 1756-57. Framed $695.00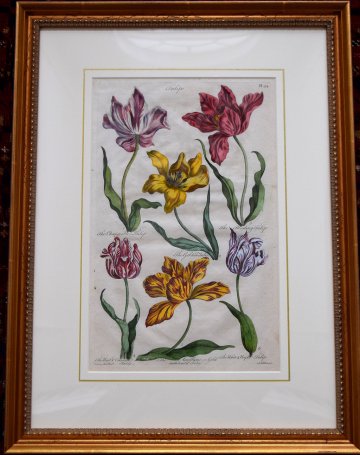 Plate 34 "The Changeable Tulip, The Golden Tulip, The Bleeding Tulip, The Pearl & Crimson Tulip, The Auriflame or Gold and Scarlet Tulip, The White & Purple Tulip"
This original 250 year old engraving was included as an illustration to John Hill's large botanical book titled, Eden; or, A Compleat Body of Gardening containing plain and familiar directions for raising the several useful products of a garden, fruits, roots, and herbage; from the practice of the most successful gardeners...
Borrowing heavily from earlier botanical illustrations, the text of Hill's book helped to introduce the new Linnaean plant classification system to an English audience. The book was well received despite Mr. Hill's reputation as controversial and argumentative. Trained as an apothecary, Hill worked as an actor, landscape planner, plant grower, and author of serious and vulgar literature. After producing a number of unprofitable botanical volumes, he turned his attentions to the more lucrative business of medicine (he managed a medical degree from Edinburgh). Hill crafted potions and snake oils to cure all types of ailments, marketing them as miraculous cures. Despite Hill's prickly personality and confounding career choices, one can't doubt his actual talent as a draftsman, engraver and plant lover. The botanical engravings he produced are arguably some of the finest of the 18th century. We are pleased to have such a wide selection.

Copperplate engraving on laid paper with modern hand color
15 ½ x 10 ¼ inches sheet size.
Archivally framed 23" x 17.5" finished.
Excellent condition.