Plate 23. Decorative Flower Studies. Paris: E. Greningaire, 1904. $115.00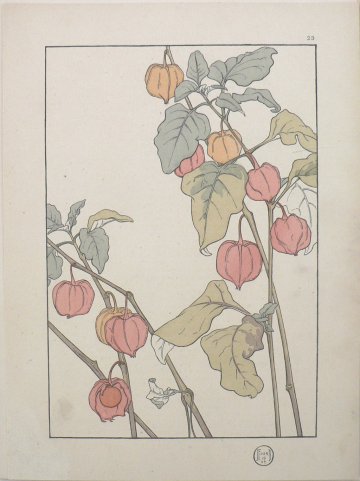 Plate 23
Jeannie Foord was a Scottish artist known for her rare prints of flowers. The presentation of the stems and blooms extending beyond, or cropped within, the confines of the surrounding neat line reflects her familiarity with Japanese wood block prints. Each floral print is signed and dated within the plate with a chop mark, another reference to Japanese print makers and a device that was used by artisans of the artists of the Arts and Crafts and Art Nouveau movements. Foord's botanicals inspired artists of the period who used her designs in their stained glass, fabric and woodworking.
The delicate coloring of these original antique prints stems from the "pochoir" process that was used to create them. Single layers of color were added by hand to the lithograph using a stencil. The prints were created by E. Greningaire from Foord's original drawings.
The perfect complement to architecture or furnishings in the Craftsman, Stickley or Mission styles.
14 ¾ x 10 ¾ inches, sheet.
Pochoir print.
Very good condition.