Nathaniel Currier (American Flag – Spirit of '76) New York, c. 1838-56. Framed $895.00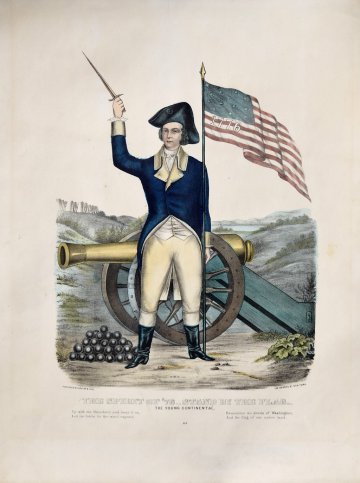 "The Spirit of 76 – Stand by the Flag. The Young Continental."
One of the great early American patriotic lithographs.
This hand colored print was created by Nathaniel Currier (c. 1838-56) before his partnership with James Ives. There are few antique works of art that are more iconic than those produced by the printing establishment of Nathaniel Currier (1813-1888) and James Merritt Ives (1824-1895). Business partners beginning in 1857, the men specialized in publishing hand colored decorative lithographic prints, which sold inexpensively to the new American middle class. Currier and Ives prints were meant to be collected and displayed in Victorian homes. The firm was popular and prolific, producing prints that chronicled the history, customs, tastes and lives of 19th century Americans.

Utilizing the lithographic printing method, the firm published works of art that appealed to people from all walks of life and were affordable. These prints were well rendered and attractive, as the firm hired the finest artists of the day, who drew directly into the limestone lithographic printing stones. A single stone could take upwards of a week to prepare and each image was run through the press one by one by hand. After the ink had dried, a print was hand colored in an "assembly line" method by women colorists many schooled in fine art.
In excellent original condition with romantic verse celebrating the American flag beneath image:
"Up with the Standard and bear it on,
Let its folds to the wind expand.
Remember the deeds of Washington,
and the flag of our native land."

Lithograph with full original hand color.
18 x 13.5 inches sheet
Full untrimmed margins. Excellent condition.