Benson, Frank. Wild Geese. Etching. 1917. $200.00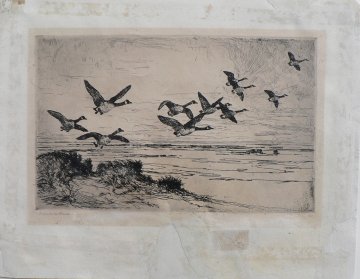 "Wild Geese"
Frank Benson (1862-1951) was a well-known and an unusually financially successful American artist. At the start of his career as a painter he accompanied Frank Tarbell to Paris where they studied at the Academie Julian. When they returned to Boston, they shared a studio and both taught at The School of the Museum of Fine Arts where they mentored a group of artists who came to be referred to as The Bostonians. In 1897 they made a break from the socially and artistically conservative Bostonians and formed a famous group of American artists known as The Ten who initially exhibited in small venues. Their work was diverse but was often characterized by visible brushstrokes, a lightened palette and a focus on natural light.
After 1915 Benson devoted most of his time to printmaking. He was an avid sportsman so waterfowl, duck hunting, fishing and canoeing became his most frequent subjects.
11 x 14 inches, sheet.
Extensive old repairs including one into plate at center bottom.
Paff 112
edition 101 of 152.