(Dartmouth College) Gleasons Pictorial Drawing Room Companion, 1853. $125.00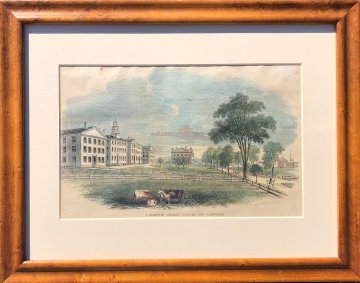 Dartmouth College. Gleasons Pictorial Drawing Room Companion, 1853
"Dartmouth College, Hanover, New Hampshire"
This view is based upon an engraving published two years earlier by three Dartmouth students. It depicts the campus as seen looking south from near the present site of Rollins Chapel. A group of cows occupy the foreground. The original Dartmouth Hall (destroyed by fire in 1904) flanked by Wentworth and Thornton Halls are shown on the left of the image, Reed Hall is in the center, and further right is tree lined College Street. The green, the Dartmouth Hotel and part of the town are shown in the distance on the right.
Hand colored wood engraving.
Framed in a birds-eye maple frame to an overall size of 11 ¼ x 14 inches.