(Yachting) "The Yacht Vesta of New York…" New York c. 1870. $750.00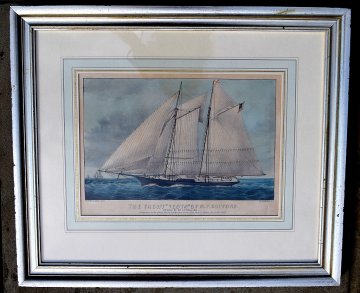 "The Yacht Vesta of N.Y. 210 tons, Owned by Mr. Lorillard competitor in the Great Ocean Yacht race from New York to Cowes, December 1866 Making the run in 14 days 7 1.2 hours, mean time"
There are few antique works of art that are more iconically American than those produced by the partnership of Nathaniel Currier (1813-1888) and James Merritt Ives (1824-1895). Business partners beginning in 1857, the men specialized in publishing hand colored decorative lithographic prints, which sold inexpensively to the new American middle class. They were the "Printmakers to the People," and their prints were meant to be collected and displayed in Victorian homes. The firm was popular and prolific, producing prints that chronicled the history, customs, tastes and lives of 19th century Americans.
Utilizing the lithographic printing method, the firm published works of art that appealed to people from all walks of life and were affordable. These prints were well rendered and attractive, as the firm hired the finest artists of the day, who drew directly into the limestone lithographic printing stones. A single stone could take upwards of a week to prepare and each image was run through the press one by one by hand. After the ink had dried, a print was hand colored in an "assembly line" method by women colorists many schooled in fine art. Someone would tint the sky, another the foreground, another the figures, etc. one color to a colorist who was paid a modest $6 for every 100 finished prints.
Sporting events were particularly appealing imagery, and Currier and Ives produced some of the very finest pictures of yachts, horses and racing, early baseball, etc.
Original hand colored lithograph.
Small folio measuring approx.. 11 x 14 inches sheet, 18 x 21.5 framed dimensions.
Very good condition.