Peter Moran. A Meadow Ford. Etching, Signed. ca. 1886. $295.00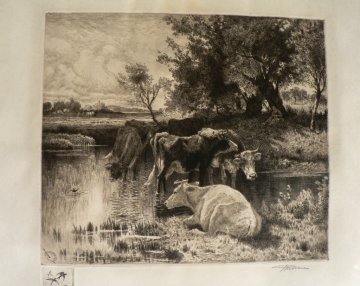 "A Meadow Ford"
This was another of Moran's favorite subjects and he revisited it often. A beautiful and peaceful depiction of a mid summer's day in the country with cows crossing a stream or resting on the banks and a women knitting in the shade of trees.
Moran etched an artist's palette in the lower left corner of the plate. A miniature additional plate was used to create a charming remarque of swallows flying. This was printed at the same time as the large print and it appears outside of the lower margin. David Wright's research has revealed that this remarque was cut from a small plate originally containing two scenes.
Ref: David Wright, Domestic and Wild: Peter Moran's Images of America #95
Etching.
19 x 24 inches, sheet. Sheet is fuller than it appears in this photograph.
Pencil signed lower right.