(Polo) Harper's Weekly. New York, 1882. $295.00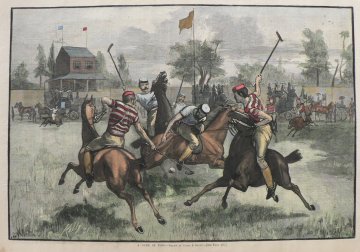 "A Game of Polo."

A wonderfully detailed view based upon the drawing by James E. Kelley, engraved by Evans and published in the July 29th 1882 ediiton of Harper's Weekly. The foreground focuses on 5 members of the opposing teams, the riders swinging their mallets and urging their excited mounts towards the ball in their midst. The middleground and foreground of the image show spectators watching from the clubhouse porch and from horse drawn carriages on the periphery of the field.

10 1/4 x 15 inches.
Hand colored wood engraving.
Excellent conditionsave small piece missing from margin outside of image.