After Alexander Le Blond. (Parterres- Embroidered). The Theory and Practice of Gardening… London: Bernard Lintot, 1728. $185.00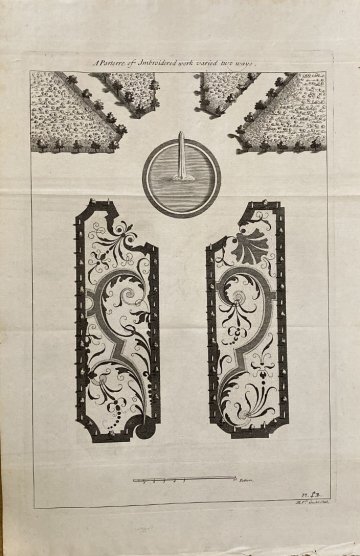 "A Parterre of Imbroidered work varied two ways."
Wonderful double page folding engraved garden plan from The Theory and Practice of Gardening Wherein is fully handles All that Relates to Fine Gardens commonly called Pleasure Gardens … together with Remarks and General Rules in all that concerns the Art of Gardening. Printed in 1728 in London, this work was an English translation of the earlier, highly influential treatise on garden architecture and horticulture by Alexandre Le Blond, 17th century French architect and garden designer to the King.
This expanded second edition describes "With very large Additions, and a new Treatise of Flowers and Orange-Trees," (from title page), in great detail, the principals and style of 18th century gardening, as the standard authority on formal garden design. The quality of these engravings is considered better than in the original French edition. All titles are in English and each garden plan is very detailed and includes designs for parterres, groves, mazes, grass plots and summer houses.
Uncolored copperplate engraving on laid paper.
9.5 x 14.75 inches sheet
Excellent condition, folds as issued, full margins.