(Rhino) Mathias Merian, Dr. John Johnston. Historiae Naturalis. Amsterdam 1660. Archivally framed. Sold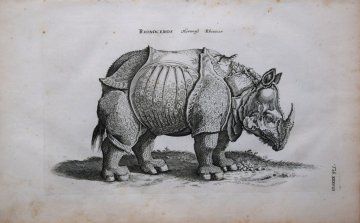 Tab XXXVIII "Rhinocereros Hornnasse Rhinocer"
Swiss born immensely talented father Mathias Senior (1593-1650) and son Mathias Junior (1621-1687) were the most able and renown copper engravers of their era. Known primarily for their beautifully detailed and technically superb topographical views and maps, the Merians collaborated with the Polish/Scottish natural history scientist, Dr John Johnston (1603-1675) illustrating his six part Historiae Naturalis. The work was first issued in Frankfurt in 1655, with a second issue printed in Amsterdam in 1660. This engraving is from the second issue of 1660. This scientific work was highly respected and much read in the 17th and 18th century. It contained two hundred and fifty uncolored copperplate engravings describing the known world including quadrupeds, insects, fish and reptiles.
We are pleased to offer the so hard to find original rhinoceros engraving. Merian's rhino is taken from the earlier work by Albrecht Durer whose image of a rhino was based on a written description and brief sketch by an unknown artist of an Indian rhinoceros that had arrived in Lisbon in 1515. Durer never saw the actual rhino which was the first living example seen in Europe since Roman times. In late 1515, the King of Portugal, Manuel I sent the animal as a gift for Pope Leo X, but it died in a shipwreck off the coast of Italy in early 1516. A live rhinoceros was not seen again in Europe until a second specimen, arrived from India at the court of Sebastian of Portugal in 1577, being later inherited by the King of Spain in 1580.
Loved for its composition, along with the Elephant, it is one of the most sought after and difficult to find engraving from this work.
Copperplate engraving, on laid paper
9 x 14 ½ inches sheet
Excellent original condition.