(Weasel) The Quadrupeds of North America. Philadelphia: (1849) $75.00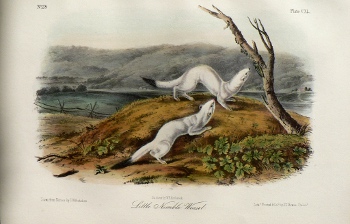 Plate CXI "Little Nimbel Weasel"
To satisfy popular demand just as Audubon's
The Birds of America
were published in a smaller format, so were his animals,
The Vivaparous Quadrupeds of North America
. John James Audubon's sons, John Woodhouse and Victor G. Audubon contracted with John Bowen, the same skilled Philadelphia lithographer that their father had hired to create the octavo editions of the birds, to lithograph in black and white and then hand color all 155 images in
The Quadrupeds of North America
. The first edition was published starting in 1849. The background shows a settler's property surrounded by a split rail fence. The accompanying text notes that "we have only oberved this Weasel in the northern part of the State of New York."
7 x 10 ½ inches, sheet.
Hand colored lithograph.
Excellent condition.