(English Setter) William Jardine. The Naturalist's Library. Edinburgh, 1833-43. $295.00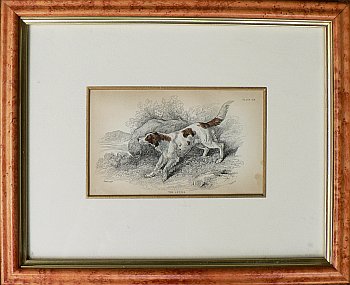 "The Setter"
A wonderfully natural and detailed engraving of one of the preeminent bird hunting dogs, the English setter. The finely detailed background and depiction of the physical characteristics of the breed were skillfully engraved by W.H. Lizars, John James Audubon's first choice as engraver of his Birds of America.
10 1/4 x 12 1/2 inches, overall.
Hand colored copper engraving.
Archivally framed and matted.