Pl. 68. (Doorway) Ferdinando Ruggieri. Florence, 1755. $175.00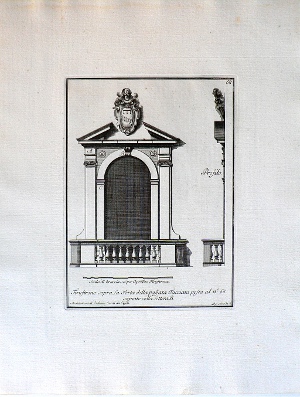 "Finestrone sopra La Porta ..."
A strong crisply engraved mid 18th century engraving printed on wonderful thick laid paper. Ferdinando Ruggieri (1691-1741) was an architect who worked principally in Tuscany. He favored the Italian Baroque style of architecture. This engraviing was included in Scelta di Architetture Antiche e Moderne Della Citta di Firenze published in Florence in 1755.

14 1/4 x 18 inches, sheet.
Uncolored engraving.
Excellent condition.