(Arch of Septemius Severus) Veduti di Roma. (Views of Rome) Paris, 1772. $2,100.00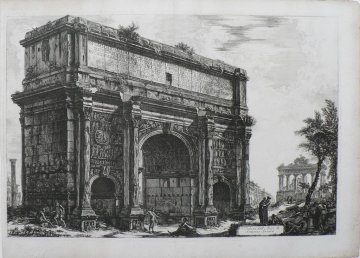 (Arch of Septemius Severus)
"Veduta dell'Arco di Settimio Sovero"

Giovannia Battista Piranesi (1720-1772) was born in Venice. The son of a stone mason and trained as an architect he was naturally attracted to the beauty of the classical ruins in Rome. In 1740 he moved to Rome and studied with some of the finest print makers working there. The remarkably high quality of his work brought him to the attention of prominent wealthy English visitors to Rome and he became the most famous artist/engraver of the 18th century Europe. His Views of Rome has always been his most famous work. It is hallowed for the brilliant effects of light and shadow that Piranesi achieved with his etching.

The Septemius Severus triumphal Arch was built in 203 to commemorate the victory of Emperor Septemius and his 2 sons over the Parthians. It sits at the foot of the Capitoline Hill in the Roman Forum.

Etching on heavy laid paper.
22 x 30 inches.
Hind 99.
Before numbers. First Paris edition.
Centerfold as issued.
Very nice condition with full margins.