(Columbia College) Parade of the Students, New York 1887. $165.00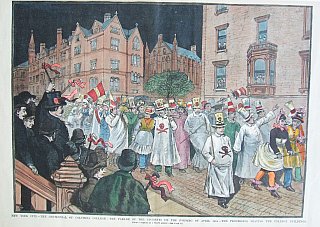 "New York City – The Centennial of Columbia College – The Parade of the Students on the Evening of April 14th – The Procession Leaving the College Buildings."

In the 19th century before photography became commonplace newspapers were illustrated with wood engravings. There were arguably two newspapers vying for number one status among readers, Harper's Weekly Newspaper and Frank Leslie's Illustrated News. Leslie was an American engraver and publisher whose experience in the newspaper trade enabled him to publish his own very successful paper. Like his competition Harper's Weekly, Leslie's paper kept readers up to date with sensationally worded accounts of natural disasters, technological advances, politics, explorations and discoveries as well as home and society matters. The magazine employed illustrators who would travel and sketch any major event. These sketches were then translated onto wood blocks and published. These beautiful images are invaluable for the historical information they offer and the glimpses into the daily life of the period.

11 x 16 inches sheet size.
Hand colored wood engraving. Excellent condition.