(Columbia University) c. 1915 $85.00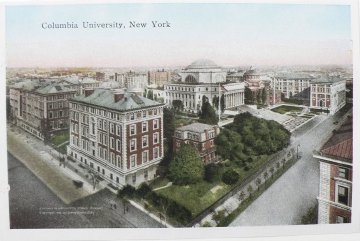 "Columbia University, New York"
included in a fabulous folding collection of 23 graphically powerful views of famous New York City landmarks. The sites include the US Custom House, Soldiers and Sailors Monument, Herald Square, Times Square, College of the City of New York, Columbia University, the New York Public Library, the New York Stock Exchange, Grant"s Tomb, National League Baseball Park, the Post Office, the Woolworth Building, New York Harbor, City Investing Building, Times Building, Waldorf Astoria Hotel, Hotel Belmont, St. Patrick's Cathedral, Fifth Avenue and the Brooklyn Subway. A selection of the views is shown here.
Address cover shows a man with a megaphone speaking to tourists packing an elongated touring car. The back cover shows the Statue of Liberty and Harbor. The inside of cover includes note that begins "Dear Mother and Brother" confirming that the writer has arrived at his destination.
Each view measures approximately 4 1/4 x 6 inches.
Back cover disbound, but the interior postcards are in excellent condition.