(Princeton University) Kasimir, Luigi. Nassau Hall, circa, 1940. $795.00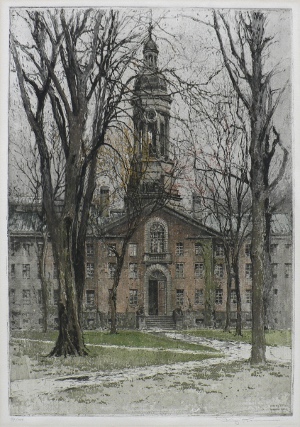 "Nassau Hall"

Luigi Kasimir (1881-1962) was an Austrian-born etcher, painter, and landscape artist, born in 1881 in Pettau, when it was a part of the Austro-Hungarian monarchy. Kasimir attended the Vienna Academy of Art where he studied under William Unger, who introduced him to the technique of the coloured etching. Kasimir's best work exploits his innovations with the technique. Kasimir created a sketch then he transferred the design to as many as six plates, printing one after the other and applying the color on the each plate by hand. Cityscapes are among his most successful subjects.

Color printed etching.
19 3/8 x 14 1/4 inches, sheet.
Pencil signed at bottom right. 97/100.
Very nice condition save light mat stain in margin as shown in photos.