(Princeton University) NY: Robertson et al, 1860. $650.00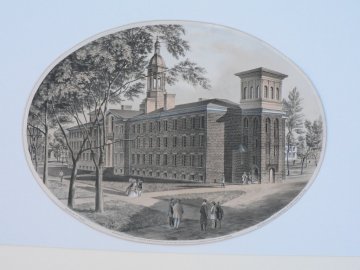 After F. Childs.
(View of Nassau Hall, Princeton, N.J.)
Lithographed by Robertson, Seibert & Sherman
New York: McGinness & Smith, 1860.
Colored lithograph.
There are very few antique views of Princeton University published before the end of the 19th century. This lovely large lithograph presents a slightly angled view of Nassau Hall. The image records the Italianate towers and two central arches that were added to the building by the Philadelphia architect, John Nottman, after the structure burned in 1855.
These additions were removed in 1905 when the building was restored to its original design.
13 ¼ x 18 inches.
The print has been neatly trimmed to ½ inch beyond the neat line of the image.
This print may be ordered framed in a gilt period frame for an additional charge. Please inquire for details.