Gottlieb Buehler. 3793. (Sofa, 2 Chairs and Bench) American, 1922 $95.00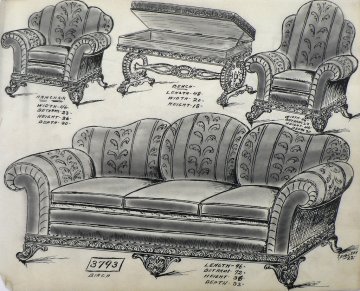 (Sofa, two chairs and bench)
Downtown Abbey Era pen and ink furniture designs from Gottlieb Buehler & Company, Pennsylvania furniture manufacturer established in 1896 on North Front Street in Allentown, PA. By 1913 Gottlieb Buehler was one of the leading parlor frame manufacturers. These designs show details of the ornament of the wooden frames and of the fabric patters. Many also provide dimensions.
Gottlieb Buehler (1857 - was a trained carpenter and cabinetmaker. He was born in Germany and immigrated to the United States in the 1890's. His two sons joined him in the business, modernizing it and guiding it through the Great Depression.
Buehler furniture and the history of the company was the subject of a 1995 exhibition at the Hugh Moore Park Canal Museum in Easton, PA. A 1943 silent film called "Roll out the Barrel Chair" chronicles the creation of the handcrafted barrel chairs, one of the most popular of the company's products.

Signed and dated "Englert - 22"
Pen and ink on paper.
Approximately 8 x 10 inches, sheet.