Muirhead Bone. Afternoon Sahagun, Spain. Drypoint. 1929. $325.00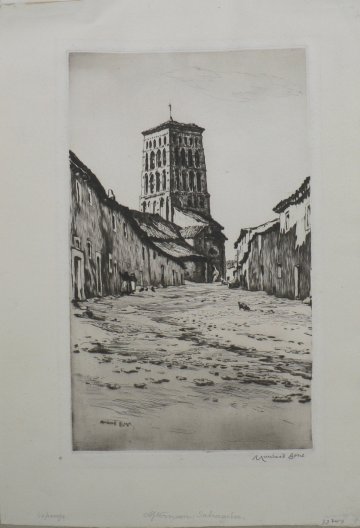 "Afternoon Sahagun, Spain."
Muirhead Bone (1876-1953) was a Scottish etcher, drypoint and watercolor artist who became known for his depiction of industrial and architectural subjects and as a war artist in both world wars. His studied architecture before beginning his career as an artist. This knowledge of the structure of buildings is revealed in his work especially in the details of construction. In 1916, he became Britain's first official war artist. At the outbreak of WWII he was appointed a member of the War Artists' Advisory Committee and was a full time employee of the Ministry of Information specializing in Admiralty subjects.
Drypoint on wove paper.
15 ½ x 11 inches, sheet.
Pencil signed at lower right.
Excellent condition.