S.A. Mitchell. "Map of the ...WESTERN STATES..." Philadelphia, 1852.$105.00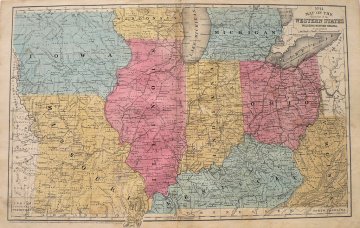 "Map of the Chief Part of the WESTERN STATES including Western Virginia."
A decorative original antique map showing railroad lines, territories of Indian tribes, and topographical information. The map depicts Iowa, Missouri, Wisconsin, Illinois, Indiana, Kentucky, Ohio, and Virginia with "Nebraska Territory", "Kansas Territory", and "Indian Cherokee Territory" on the western boundary and westernmost Pennsylvania on the east.
11 ½ x 18 inches, sheet.
Excellent condition save minor soiling in bottom and right margins.
Hand colored lithograph.