(North and South Carolina, Georgia) Jacques Nicolas Bellin. L'Histoire Generale des Voyages. Paris 1757. $325.00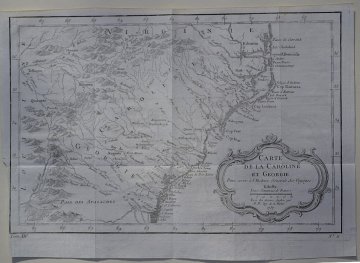 "Carte de a Caroline et Georgie

Delicately engraved map of the colonies of Carolina and Georgia from Albemarle Sound to the Alatamaha River. It probably owes its origin to the 1752 map of the region by Emanuel Bowen. There are numerous English settlements along the coast and Indian villages are located throughout, including a number west of the Appalachian Mountains. There is more detail in the area west of the Blue Ridge than in many other maps of the period. It shows a rudimentary course of the Tennessee River in the northwestern section of the map. Wonderful coastal detail includs the Outerbanks, Charleston, Sullivan, Daufuskie, St. Simon, and Jekil [sic] Islands. A decorative rococo-style title cartouche incorporates the distance scale. Included in: L'Histoire Generale des Voyages.


Uncolored copper plate engraving.
8 ¾ x 12 inches sheet, on laid paper, folds as issued.
Very good condition, faint offsetting in map, else fine.