Mitchell, Samuel Augustus. County map of Florida (Florida Keys) Washington, Wm. M. Bradley & Bro. [1887]- 1890. $165.00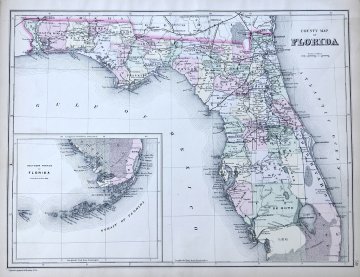 "County Map of Florida"
Late 19th century map of Florida including a detailed description of the Keys, published in: Mitchell's New General Atlas, containing Maps of the various Countries of the World, plans of Cities, etc. Embraced in ninety-three quarto maps. This map describes with subtle hand outline color various Florida counties, towns and settlements, railroad lines, rivers and natural topography. Fascinating description of early Florida.

Lithograph with outline color.
12 x 15 inches sheet.
Excellent condition.