Florida. O. W. Gray & Sons, 1876. $275.00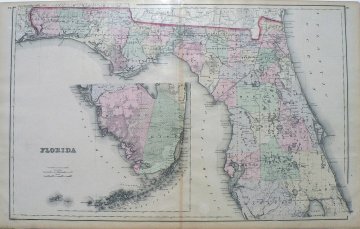 This is a wonderfully large scale large map of the state. It shows the nascent railroad activity including the Florida Atlantic and Gulf Railroad, Pensacola and Georgia Railroad, and the Atlantic Gulf and W. India Railroad. This was years before Henry Flagler and other railroad barons made strides into south and central Florida and the interior and the southern portions were true wilderness areas. Miami was not incorporated until 1898. It is remarkable that despite its remote location and lack of accessibility by land, Key West was one of the largest cities.
The inset map show the southern tip of Florida and the Florida Keys in great detail.
Hand colored lithograph.
Excellent condition.
17 ¼ 27 ½ inches, overall.