Bonne, Rigobert. ...La Louisiane et...La Floride Paris, ca. 1680. $495.00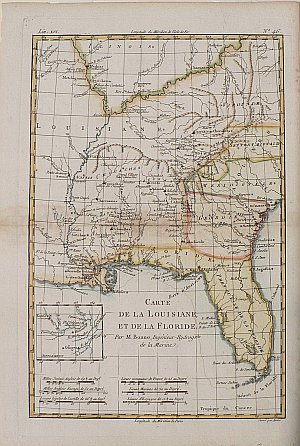 "Carte de La Louisiane et de La Floride..."
Rigobert Bonne (1727-1795) was an engineer and the royal cartographer of France at a time when the French were assuming an increasingly important role in mapmaking and in the territorial claims that were presented through maps.
This pretty engraving depicts the area extending from Illinois and interior portions of Virginia in the north to the Carolinas, Georgia and Florida including the mountainous western parts of North Carolina and Virginia. French claims in North America are identified as "La Louisiane", the Spanish claimed "La Floride" and the English settlements are shown in the Carolinas and "Georgie." The design includes French detailed knowledge of Indian settlements which are meticulously recorded.
The small inset plan shows a part of the Missouri River where Fort d'Orleans was reputed to have been established in 1723 by Monsieur Bourgmont. It was the first European fort on the Missouri but as is noted on the map, it was abandoned within a short period of time. Bourgmont had close ties with the Native Americans in the area and
knew where their territories lay and what names they have given to them. Guillaume Delisle incorporated some of this information in his important maps.
Ref: Cumming,
The Southeast in Early Maps
, #326
15 x 10 inches, sheet.
Hand colored copper engraving.
Excellent condition.