(Africa) Johnson's New Illustrated Family Atlas. New York 1864. $395.00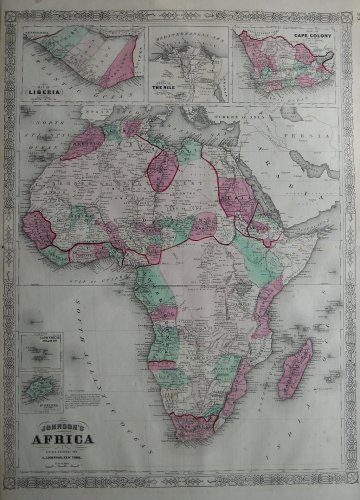 "Johnson's Africa"

An large and detailed map of the African continent. This map was included in Alvin J. Johnson's , New Illustrated Family Atlas of the World with Physical Geography and with Descriptions Geographical, Statistical and Historic…, from plates he purchased from J. H. Colton. This map is typical of those Johnson produced between 1863-69 with its identifying fretwork border design. It is wonderfully detailed with place names that are long forgotten, descriptions of the Cape Verde Islands, St Helena, Madagascar, along with insets of the Cape Colony (South Africa), hte Nile River delta, and Liberia infamous for its involvement in the slave trade. Terrific map of Africa in the mid 19th century.

Lithograph with full original hand color.
26 ½ x 18 inches sheet size.
Very good condition.