(Africa) Finley, Anthony. New General Atlas... Philadelphia, 1824. $205.00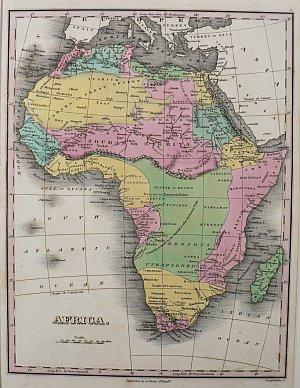 "Africa"
Anthony Finley (ca. 1790–1840) was a successful Philadelphia mapmaker and publisher. This original antique map was included in his New General Atlas…, published in 1824 when Finley's offices were at the corner of Fourth and Chestnut Streets. As Walter Ristow states in his reference American Maps & Mapmakers… (pp. 268-9) the "engraving is done almost uniformly with remarkable distinctness and the face of the maps is frequently beautiful, not overloaded with a confusion of useless names." Indeed these maps are beautiful. Indeed, the maps from this atlas are beautiful examples of the American mapmaking during the first quarter of the 19th century.
Area including present-day Zambia, Zaire and Angola labeled "Regions Unexplored" and "Country occupied by the JAGAS & other barbarous Tribes". Area above labeled Nigrita. Top left yellow region labeled "Sahara or Great Desert".Hand-colored engraving.
10 1/4 x 13 inches, sheet.
Very nice condition with light browning of extremes of margins.