(Poland) London: G.G. & J. Robinson, 1799. $350.00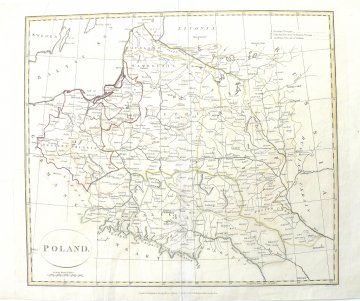 This map, finely engraved by Neele, shows the three partitions of the Polish–Lithuanian Commonwealth that took place in the latter half of the eighteenth century. A key is included in the upper right of the map correlating to the numbers 1, 2, and 3 drawn on the map for the three partitions. In August of 1772, the first Partition of Poland was brought about by the Russian Empire. Two decades later, Russian and Prussian troops entered the commonwealth again and the Second Partition was signed in January of 1793. The 3rd partition of Poland took place in 1795 after the revolt led by national hero, Tadeusz Kosciuszko was crushed. Each partition decreased the size of the territory. By 1795 Polish-Lithuanian national sovereignty was ended until 1918.
15 x 18 1/3 inches, sheet.
Engraving with hand colored outlining.
Good condition save repaired tear in extreme upper left corner.