(The Ottoman Empire) Jaillot, Hubert. Paris (1696) $495.00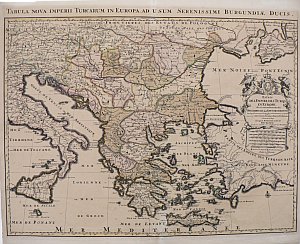 "Estats De L'Empire Des Turqs En Europe."
This map was created in Paris by Hubert Jaillot at the time when the French were in the forefront of cartography, known for the precision of their maps and for the decorative appeal of them. The area surrounding the title is beautifully and elaborately engraved.
The map is devoted to the Ottoman Empire in Europe as it existed at the end of the 18th century. Hungary, Bosnia, Serbia, Bulgaria, Bessarabia (Moldavia), Romania, Macedonia, Albania, etc. It is centered on Greece and the Mediterranean Sea with the described area extending east to portions of Germany and Austria and Italy and Sicily, north to the frontiers of Poland, and east into Asia Minor and what is now The Ukraine. The map provides easy to read details of place names and topographical features. It is a great historical record of an empire on the brink of change.
Engraving
21 x 25 inches, sheet.
Good condition save old repaired tear into image at bottom fold.
Overall patina with light staining.
Full original coloring.