(Netherlands) Jansson, Jan. after Pitt. Amsterdam, ca. 1680. $850.00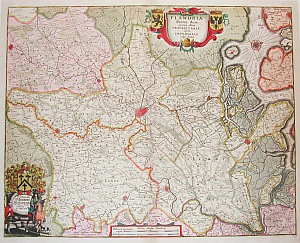 Flandiae Partes duae Proprietaria alera Imperalis
For one hundred years, beginning in the last quarter of the 16th century, Dutch mapmakers were in the forefront of cartography. Their maps contained the most up-to-date geographical information and were usually elaborately engraved with illustrations surrounding the title area, the scale of miles or elsewhere on the sheet. The Blaeu, Jansson DeWitt and Visscher families were the most powerful dynasties of Dutch mapmakers during this period.
This beautiful and highly detailed map by Jansson after Moses Pitt is in excellent condition with the original vibrant coloring perfectly preserved. Since it did not become customary to show north to the top of the map until the eighteenth century, a compass rose is used to indicate that north is to the right of the page. Gent is at the center of this map with Kortrijk to the south, Aalst to the east and the Westerschelde Sea to the north. The cartouche is beautifully decorative but the dedication at the lower left is so extraordinary that it can be considered a work of art in its own right. A nobleman dressed in finery and carrying a gun sits astride a horse shown to be moving through the landscape. His attendant is at his right and three dogs occupy the background. An elaborate coat-of-arms occupies the space behind the map. It is topped by a shield, a helmet and a breastplate. This is one of the most finely finished illustrations we have ever seen on a map.
20 x 24 inches, sheet.
Hand colored copperplate engraving.
Excellent original condition and coloringwith full margins.