(Southern Germany) DeWit, Frederick. Amsterdam: ca. 1680. $675.00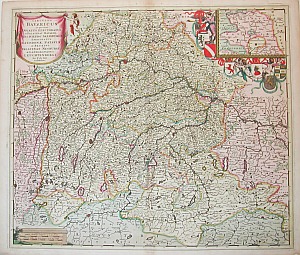 "Circulus Bavaricus in quo sune Ducatus, Electoratus & Palinat Bavariae, Archiepisc Salisburgh, Episcopatus Ratisbonae, Pataviae"
For one hundred years, beginning in the last quarter of the 16th century, Dutch mapmakers were in the forefront of cartography. Their maps contained the most up-to-date geographical information and were usually elaborately engraved with illustrations surrounding the title area, the scale of miles or elsewhere on the sheet. The Blaeu, Jansson, de Witt and Visscher families were the most powerful dynasties of mapmakers during this period.
This by De Witt map depicts a portion of southern Germany that included the historic regions of Bavaria, the Palatinate, Prussia-Brandenburg, the Rhineland and Saxony. Regensberg, Freising and Munich are at the center of the image with areas shown east to Linz, south to Innsbruck, west to Kempten, north to Amberg. An inset of "Palatinatus Bavariae" appears in the upper right surrounded by decorative colored engravings of the putti, garlands and shields displaying the crests of major cities.
20 inches x 25 inches, sheet.
Handcolored copperplate engraving.
Excellent condition and coloring with full margins.