(Southern Hemisphere) Guillaume Delisle. Amsterdam, 1714. $950.00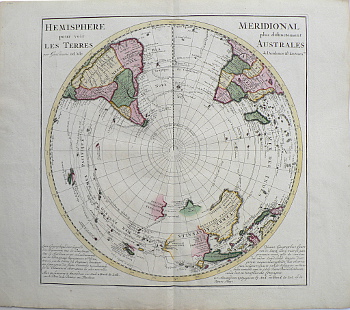 "Hemisphere Pour Voir Les Terres Meridionale Plus Distinctement Australes"


This beautiful map depicts the explorations and discoveries made by Portuguese, Spanish, Dutch and English explorers in Australia, New Zealand and the South Pacific made up to that time.
Delisle was the royal geographer to Louis XIV and XV of France. He drew such accurate maps that he is called the first "scientific cartographer." Here he records Magellan's 1520 route from the Atlantic to the Pacific, Mendana's 1565 and 1595 expeditions to the Pacific in search of "Terra Australis," Abel Tasman's 1642 route to and mapping of Van Dieman's Land (Now Tasmania) and New Zealand, William Dampier's exploration of Australia and circumnavigation of the globe and Edmond Halley's 1700 expedition to the south Atlantic to study terrestrial magnetism.

21 ¾ x 24 ½ inches, sheet.
Copperplate engraving with full original coloring.
Excellent condition.