Chart of North Atlantic Ocean... Thomson, 1815. $400.00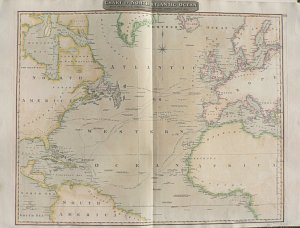 "Chart of North Atlantic Ocean with tracks of the Shipping to West Indies"
Edinburgh: John Thomson & Co., 1815.
The attractive design of this chart is enhanced by its beautifully preserved original coloring. While principally a chart, the engraving includes the land masses of North and South America, the southern part of Greenland, Iceland, Europe, and Africa. Port cities, shoals, breakers, suggested routes through difficult passes, areas where wrecks could be found are all shown in detail. The chart also includes "Lord Nelson's track to the West Indies in Pursuit of the French" and the path of the ship, the Insurgent.
28 x 21 ½ inches, sheet.
Engraving with beautifully preserved original outline coloring.
Very nice condition with some areas of light browning and barely perceptible printer's crease to left of centerfold.