(Map of Tahiti) James Cook and Jacques Nicholas Bellin, Paris 1780. $695.00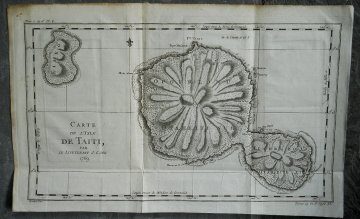 "Carte de L'Isle de Taiti, par Le Lieutenant J. Cook 1769"
Captain James Cook (English 1728-1779) was a celebrated Royal Navy Captain, explorer, navigator, cartographer and adventurer, known for being the earliest European explorer to discover, chart and visit the many islands of the southern oceans. This beautifully uncolored mapdescribes Tahiti, the largest island in the Windward group of French Polynesia in the Southern Pacific Ocean. The island was explored by Captain Cook in 1769 during his first voyage rounding Cape Horn and is one of the earliest maps to show the island's unique topography. Engraved by Robert Bernard (active 1750-1785) this state was included in Jean Francois de Harpe's, Abrege de l'Hitoire generale des voyages contenant... printed in Paris in 1780.
Copperplate engraving, uncolored as issued, on watermarked laid paper,
11 x 17 ¾ inches sheet size,
excellent untouched original condition, folds as issued.
For Captain Cook enthusiasts we also offer a wonderful 18th century view of Cook's ships off to the side of a large iceberg where men in skiffs are harvesting ice and shooting sea birds. http://fineantiqueprints.com/Maritime/Exploration/1942