(Philadelphia) ..Fair Mount.... Hinton, ca. 1834. $175.00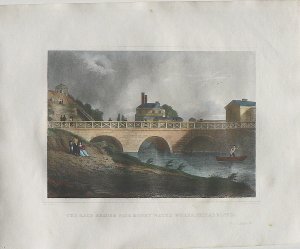 "The Race Bridge Fairmount Water Works, Philadelphia."
This view was included in John H. Hinton's History and Topography of the United States of North America. Hinton's travel book was first published in 1830. Its text and pleasing illustrations made the work so popular that it continued to be published in a variety of editions for over 30 years. The views were based upon the drawings and paintings of many well known artists, some of whom, worked on the spot. They were engraved by accomplished engravers of the period.
The subject of this print is the Fairmount Water Works which was constructed in the first quarter of the 19th century in order to provide Philadelphia with clean drinking water. The designers of the engineering marvel took advantage of the site. Water was pumped from the Schuylkill River to a reservoir at the top of the hill (Fair Mount) so that it could flow through a series of pipes to Centre Square for distribution throughout the city. The site at the river's edge was enhanced with public gardens, a gazebo and a walkway. It became a popular tourist attraction.
8 x 15 inches.
Hand colored steel engraving.
Excellent condition.