Burton, Charles. Race Bridge Fair Mount.1830. $225.00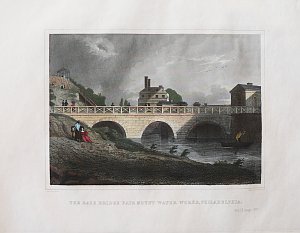 "The Race Bridge Fair Mount Water Works, Philadelphia"

This beautiful early 19th century engraving depicts the Water Works and environs as seen from the west. The works, completed in 1822, was a marvel of modern engineering design. It used the force of gravity to bring clean water to the inhabitants of the city from the reservoir above. The race, the dam and the canal and locks are all clearly depicted. The charming scene includes many sightseers enjoying the gardens and the pavilion, just a visitors will soon be able to do when the Philadelphia Museum of Art finishes their restoration project on the hill. This hand colored engraving was included in Charles Burton's, History and Topography of the United States of America published in London between 1830-32.

8 x 10 ¾ inches sheet
Hand colored steel plate engraving.
Excellent condition.