(Westtown & Thornbury) Plate 23. Phila: A.H. Mueller, 1912. $325.00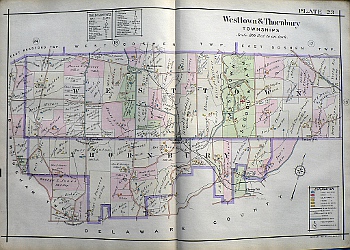 Plate 23 (Westtown and Thornbury)
A detailed large scale, colored and keyed map from the
Property Atlas of the Main Line Pennsylvania R.R. from Devon to Downingtown and West Chester
published by A.H. Mueller in Philadelphia in 1912. The maps included owner's names, types of contruction - frame, brick, stone, stucco, iron or iron clad - garages, stables and outbuildingsas well as the location of mines, quarries, steam railroad lines and paved, unpaved and private roads.
This map presents an especially detailed depiction of "The Westtown School and Farm" with its boiler house, industrial hall, boat house,orchard, dairy, etc.
Please contact us for photographs and descriptions of other maps
from this atlas showing Willistown, West Whiteland, West Goshen, West Chester, Valley Forge, Upper Merion, Tredyffrin, Swedeland, Radnor, Newtown, Malvern, Frazer, Edgemont, East Whiteland, East Gosher, East Caln, East Bradford, East Town, Downingtown, Devon, Bridgeport and Berwyn.
22 1/4 x 32 inches, sheet.
Excellent condition backed with linen as issued.