J. Stanley Reeve. Red Coats in Chester County. New York: Derrydale Press, 1940. $295.00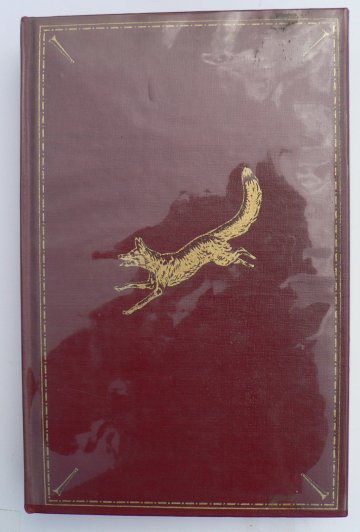 Red Coats in Chester County.
Signed by the author. Copy 245 out of 570 copies printed.


The preface reveals the humorous tone of the work. The first line states, "Most of the anecdotes and stories, both historical and otherwise, in this volume are quite near the truth." The chapters include "Brookthorpe to Street Road", "Street Road to Runnymede", "Runnymede to Unionville", "Unionville to West Chester", "West Chester to Rocky Hill", Rocky Hill to Brookthorpe." The illustrations include Miss Katherine R. Reeve on 'Real Gold', "Thayendanegea", "The Cerne Giant, Cheshire Hounds at Runnymede, Cheshire Foxhounds' Puppy Show, Bryn Mawr Hound Show, 1937., Henry G. Vaughan, Esq., M>F>H., The Haycock Hotel, Beagle Day at Bryn Mawr, Bryn Mawr, 1939, Mrs W. Plunket Stewart, Mrs. J. Stanley Reeve..

Red cloth. Gilt stamped image of a fox and horns on the cover.
Marbled end papers. Bookplate of "John Hartwell Richards, Jr. Ex MFH"
Very good condition with mylar protecting cover.