Harvard and Columbia Boat-Race) Harper's Weekly, June 30, 1883. $215.00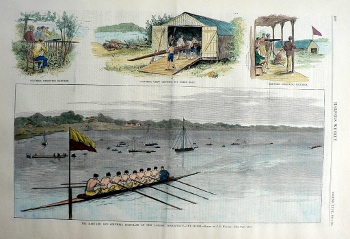 "The Harvard and Columbia Boat-Race at New London, Connecticut - The Finish"
In the 19th century, before photography became commonplace, newspapers and periodicals were illustrated with wood engravings. Many of the best artists of the day earned their bread and butter creating the original designs for these prints and engraving them. These minutely detailed original prints provide wonderful glimpses into the daily life of the period and provide invaluable information concerning the architectural detail of specific locations and individual buildings. In this case the main image shows the race. Vignettes include "columbia observing Harvard," "Columbia Crew Getting Their Boat," and "Harvard Observing Columbia."
16 x 22 inches, sheet.
Hand colored wood engraving.
Excellent condition.
With detailed accompanying text.