(Sculling and Pleasure Boating on the Schuylkill) New York: Harper's Weekly, 1884.$250.00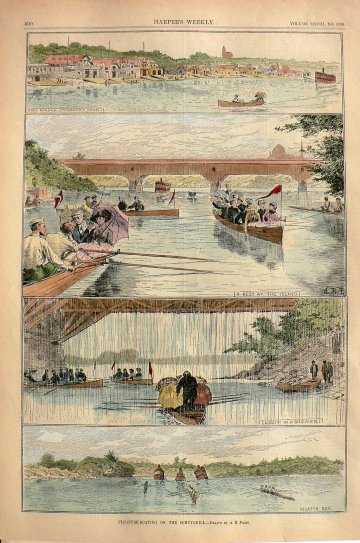 "Pleasure-Boating on the Schuylkill"
The renowned sporting artist, A.B. Frost created this charming 4 part image or rowing on the Schuylkill River in Philadelphia.
The upper scene shows Boathouse Row in detail, "At Rest at the Island" shows spectators in boats with scullers beside them, "Caught in a Shower" shows a scene familiar to any who have participated in this sport are who have watched those who do. The bottom scene, "Regatta Day" shows teams practicing before the race.
15 1/2 x 11 inches, sheet
Hand colored wood engraving.
Excellent condition with light overall patina.