(Columbia-Harvard Boat Race) New York:Harper's Weekly, 1886. $250.00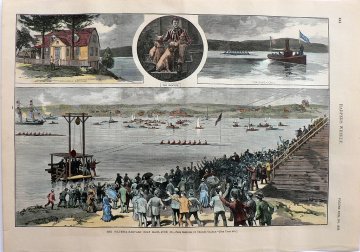 "The Columbia-Harvard Boat Race, June 26"
A wonderfully lively original antique print showing the enthusiastic spectators filling the grandstands on the New London River to watch the race between Harvard and Columbia as they make their way between the many other boats in the river. Insets show "Columbia Cottage", "The Mascots' (4 dogs), and "Coaching a Crew."
The text on the reverse describes the course of the race and names the participants.
11 x 15 1/2 inches, overall.
Hand colored wood engraving.
Excellent condition with light overall patina.
Makes a nice pair with "The Yale and Harvard Boat-Race."