No. 1. American Field Sports (Duck Hunting) New York, c. 1860. $600.00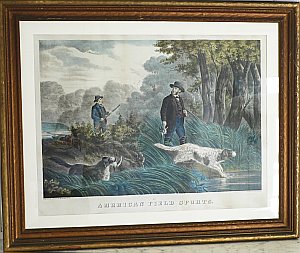 "No. 1 American Field Sports"
(Duck Hunting)
L.M. Delavan, del.
Charles Hart, lith. & pub.
The commercial success of Currier and Ives inspired many other publishers to hire talented artists and lithographers to create prints. In the days before the widespread use of photography, wood engravings and lithographs were the only way that illustrations of news events could be circulated. Both printmaking techniques were also used to create affordable images of which scenes of everyday life and sporting were among the most popular subjects.
In this print, two well dressed bearded gentlemen hunters cross through a grassy area. They carry shotguns and their dogs are at their sides. The pleasing image includes a detailed view of the surrounding landscape and of the clothing of the two figures, a skiff pulled up on the bank in the background, birds in the sky, and a realistic depiction of the dogs.
Hand colored lithograph.
Refitted in original carved and painted antiqued gilt molding with rag matting.
26 x 32 inches, finished size.
Very light vertical burn mark between the two figures and in margin at bottom.
Very good condition overall with well preserved color.