Wild Duck Shooting New York: Thomas Kelley, c. 1850. $1,100.00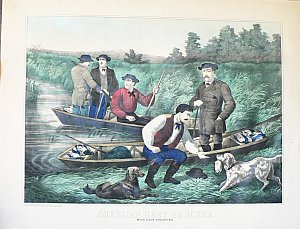 "American Hunting Scene. Wild Duck Shooting."
New York: Thomas Kelly, c. 1850.
This large folio lithograph provides a wonderful quintessentially 19th scene of 3 nattily attired gentlemen hunters accompanied by two gillies and two retrieving dogs.

Kelly was an Irish lithographer who immigrated to the United States in the middle of the 19th century. He is known for his landscape andhunting scenes which compare favorably with those produced by his morefamous contemporaries Nathaniel Currier and James Ives who were alsoworking in New York City at the time.
Hand colored lithograph.
23 ¾ x 29 5/8 inches, sheet.
Very nice condition with light overall browning and one very small repair.
Framed in antique gold colored frame.