Design for a Vase. Paris c. 1760. $185.00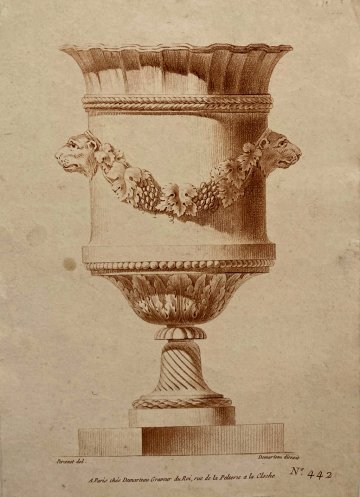 Design for a Vase. Paris c. 1760.
L. N. Percenet, born 1736 (artist)
Gilles Demarteau, born 1722 - died 1776 (etcher)
Etching, in the crayon manner, printed in red.
One of four designs for vases in the neo-classic style. Lettered 'Percenet del. Demarteau direxit' and 'A Paris chés Demarteau Graveur du Roi rue de la Pelterie a la Cloche' along with publisher's serial numbers 'No.442'. A lovely etching of a decorative vase with garland and acanthus leaves, lion head decoration on a square base.
Soft ground etching printed in red inks.
10.5 x 8 inches sheet.
Good condition, old wax stain left image.