Charles Willson Peale. (State House) Columbian Magazine, 1787. $300.00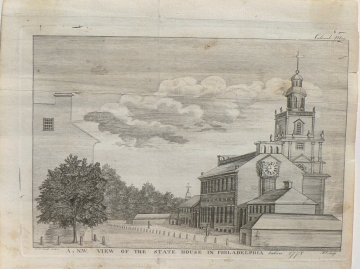 Charles Willson Peale. (State House / Independence Hall) Columbian Magazine, July 1787
This was the first time an illustration of this important building, the site where Congress voted for Independence, was published in a magazine. It was based upon a study made by Charles Willson Peale and engraved by James Trenchard who commissioned Peale to make drawings for the magazine. The long single story stables on either side of the structure were torn down shortly after this print was made and City Hall and Congress Hall were erected in their place.
o Published in: The American Revolution in drawings and prints; a checklist of 1765-1790 graphics in the Library of Congress / Compiled by Donald H. Cresswell, with a foreword by Sinclair H. Hitchings. Washington : [For sale by the Supt. of Docs., U.S. Govt. Print. Off.], 1975, no. 589.
o Exhibited in: "Creating the United States" at the Library of Congress, Washington, D.C., 2010-2011.
6 ¼ x 8 inches, sheet.
4 ¾ x 6 ¾ inches, plate.
Excellent condition with light evidence of handling.